GN Locomotive Rosters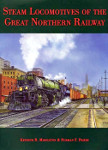 There are several sources for an all-time roster of Great Northern Locomotives:
For a comprehensive GN steam locomotive roster check out the Steam Locomotives of the Great Northern Railway book. This book is a must have for Great Northern steam fans and offers a great insight of the GN steam locomotive fleet. This 544 page hardcover book is still available from the GNRHS Company Store.
For an all-time roster of all GN motive power, there is an excellent soft cover book published by the Railway & Locomotive Historical Society. The book is titled, "Railroad History 143 - Illustrated All-Time GN Motive Power Roster - Steam, Electric, Diesel & Motor Car" by Norman C. Keyes, Jr. & Kenneth R. Middleton. It was published by the R&LHS originally in Autumn 1980 and then reprinted in 1989. This book is a "must have" for the serious GN fan or historian. This book is out of print. If you look around, you can probably find a copy for sale on eBay.com or Amazon.com, or a used books seller.
Online a GN Diesel Locomotive Roster can be found on Ben Ringnalda's Great Northern Empire website.
A GN condensed all time locomotive roster can be found on the Great Northern Railway Page by Lindsay Korst.