GN 400 "Hustle Muscle" - EMD SD45
Does the GNRHS own any ex-Great Northern locomotives?



Indeed we do. The GNRHS owns GN 400, the first 3600 horsepower, 20 cylinder production model, SD45 diesel electric locomotive manufactured by General Motors Corporation (EMD).

Hustle Muscle most recently appeared in August 2012 at a

BNSF Employees Picnic at Albertville, MN

.
Please check out the photos below.



Photos contributed by Gary Nelson.

Hustle Muscle got to stretch her legs on the trip from the Jackson St. Roundhouse in St. Paul to Albertville, MN to be on display at a BNSF Employees Picnic on August 23, 2012. Accompanied by BNSF ES44C4 6870 she was the star of the show. She returned the same evening to St. Paul. Hustle Muscle performed flawlessly on the return trip from Albertville. Hustle Muscle was the lead unit on the return trip and the BNSF crew said that she ran beautifully and they were glad to get the opportunity to run GN 400.


Click here and here for more pictures of GN 400 from the 2005 Fergus Falls convention.



Watch Hustle Muscle perform a runby during the Duluth 2009 convention. Lindsay Korst video.

GN 400 was delivered in May, 1966 to the Minneapolis Junction Roundhouse in St. Paul, MN and was christened "Hustle Muscle" by the Great Northern Railway. In 1970, this locomotive became Burlington Northern "6430". In September, 1973 "6430" underwent Class One repairs at Livingston, Montana and was repainted in cascade green. At the request of numerous railfans and employees, "6430" retained its "Hustle Muscle" nickname.


In 1986, "6430" was retired and donated to the Great Northern Railway Historical Society. In 1989, "6430" was repainted to its original GN 400 paint scheme at Grand Forks, ND. GN 400 was then stored at the Lake Superior Railroad Museum in Duluth, MN.
In mid-December 2000, GN 400 made the trip from Duluth to St. Paul. It was on display at the BNSF Northtown Diesel Shop (Minneapolis, MN) and is now berthed in its permanent home at the MTM Jackson Street Roundhouse in St. Paul, MN.

In 2006 our big SD45 received a great new paintjob at the Wisconsin & Southern shop in Horicon, Wisconsin.

GN 400 at Dale Street Shop St. Paul, Minnesota September, 1967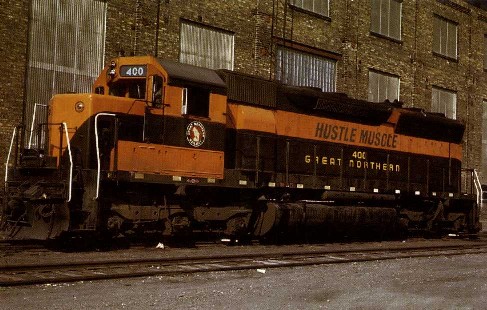 Statistics for GN 400 "HUSTLE MUSCLE" SD45

Hustle Muscle statistical information (HustleMuscleStats.pdf)
Note: To view this PDF document, you will need

installed on your computer.

Information provided by Great Northern Railway Historical Society