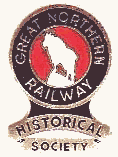 GNRHS Donations Page using
The Great Northern Railway Historical Society (GNRHS) is a not-for-profit organization charted in the State of Illinois under the provisions of Section 501(c)(3) of the Internal Revenue Code.
Therefore, those who wish to make a tax-deductible contribution to the Society, may do so via Paypal and credit card. You do NOT need a Paypal account to pay by credit card.
Click on the following button to make your contribution:
On behalf of the GNRHS, Thank You for helping us keep the spirit of the Great Northern Railway alive.