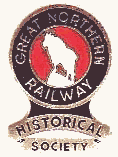 Additional Postage needed using
Orders shipped outside the U.S. may require additional postage. If so you will be contacted by our Back Issues Officer with the correct shipping amount.
Payment of the extra shipping charges can be done by using a combination of the buttons below or by following the instructions given by the Back Issues Officer.
Please allow four to six weeks for items to be processed.


The following buttons are for additional shipping charges (if needed) for GNRHS orders shipped outside the U.S.